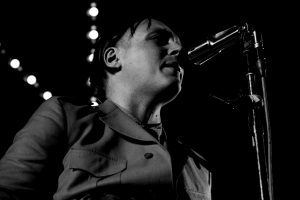 No Canadian pop band has had such an influence on modern music as Arcade Fire. Their distinctive electronic style has given them worldwide acclaim. They were formed in 2000 by spouses, Win Butler and Régine Chassagne. Four years later, they gained the attention of the public with their debut album, Funeral.
The band like to mix up their roles and as such, they often switch the instruments they play during their live performances. When on stage Régine Chassagne enjoys dancing with colorful pom poms. Win Butler's brother also plays in the band and is known for his eccentric behavior when performing.
Win is normally on vocals while Régine has proven herself to be a fantastic singer in her own right. This is clear in the song, Sprawl II. The synth pop hit features her singing while the other band members take on more of a background role. It was released in 2011 and soon became one of the band's most popular songs. It is almost always in their set list during a tour performance.
Everything Now was an even bigger hit and was released in 2017. It quickly hit the charts and became one of the most successful Arcade Fire songs to date. It is now a staple of their live shows. It even reached number one in the US Adult Alternative Billboard charts.
Besides music, the group is also active in a number of charities and causes. In particular, they are big supporters of the Haitian people and strive to raise awareness of their struggles. Régine Chassagne is of Haitian descent and so well aware of the issues faced by the citizens. Despite the fact that Arcade Fire have only been around for a relatively short time, they have already distinguished themselves as one of the best bands to come out of Canada.